Mystery, who done it, suspense, thriller, intrigue, revenge, and the ones who got away … short reads to tantalize and tease.
Come join the seasoned chief inspector as they train a junior constable facing her first gruesome double murder in "No Leftovers" or the taciturn detective who has lost hope in "Unspoken".
I am excited that my latest mysteries are released in time for Halloween. A collection of short stories ( 100 word puzzlers) collected from the best authors across the globe make up this anthology.
Published by Black Hare Press of Australia, this is my first international release. Actually first and second I suppose, as two of my stories were accepted into the curated collection.

Some crimes are worse than murder… Can you UNRAVEL the mysteries?
https://www.amazon.com/UNRAVEL-Crime-Microfiction-Anthology-Drabbles-ebook/dp/B07YD28DLB/ref=sr_1_1?keywords=unravel+black+hare+press&qid=1572459247&sr=8-1

Available for a limited time free through an Amazon Unlimited subscription or $ 2.99 for direct e-book purchase. Also available in paperback and hardcover.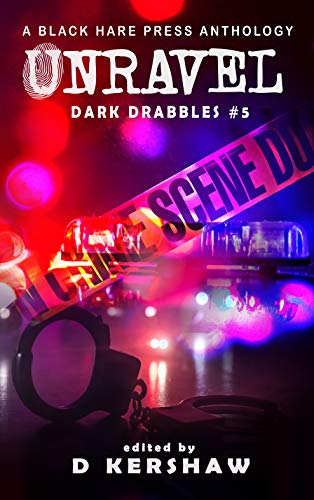 These short stories are called drabbles. They are one hundred words- not ninety nine words, nor one hundred and one words – exactly precisely one hundred word stories. Very tricky to tell a story in one hundred words, some I rewrote a number of times, others the story was just too big to do it justice in one hundred words and I had to abandon it for later.
Like a blend of flash fiction and poetry – every word is selected for precision, carefully chosen for fully building the tone and mood.